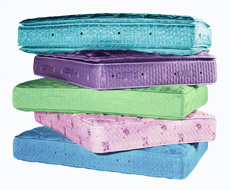 Have you ever heard the ads for mattress stores where they say, "If you're not picky about color™, you can get a great deal on a bed?" They mix and match mattresses and box springs of different colors and remind you that the moment you get them home, you are going to throw sheets and covers on the bed and never see the individual colors again.
Much like mattresses, once you load a new Logos Bible Software collection onto your computer, you may never see the "colors" again. The packaging often goes straight into the trash or onto the shelf, and the books inside go straight into your electronic library. As you build your library, the packaging that each book came in is long forgotten.
…so if you're not too picky about packaging, you can get some great deals on books! How about over $1,000.00 worth of content for less than $50 bucks?
Forget the cover, forget the packaging, and look at what's inside. This deal is almost too good to be true. Take a look for yourself at the amazing titles included for just $50.00, and you will be blown away. But don't look too long—the product has been discontinued, and we only have a limited supply left!