On Thursday of last week, we looked at how to use Strong's in Logos Bible Software version 3, but I left out a few things that are worth calling attention to. In addition to accessing Strong's from the "Other Tools" section of the Bible Speed Search or the regular Bible Search results, you can access it directly from the right-click menu of any Strong's-tagged Bible or by running advanced Bible searches for particular Strong's numbers.
Accessing Strong's from Your Bibles
You can still run the old Englishman's Concordance report from the right-click menu in Strong's-enabled Bibles. For example, open the KJV to Romans 8, right-click on a word like condemnation, and select "Englishman's Concordance."
Doing so will launch this report, which shows you all of the occurrences of that particular Greek word, which happens to be translated all three times as condemnation.
Another way to do this is to right-click on the word and choose "Selected Reference" > "Speed Search This Resource."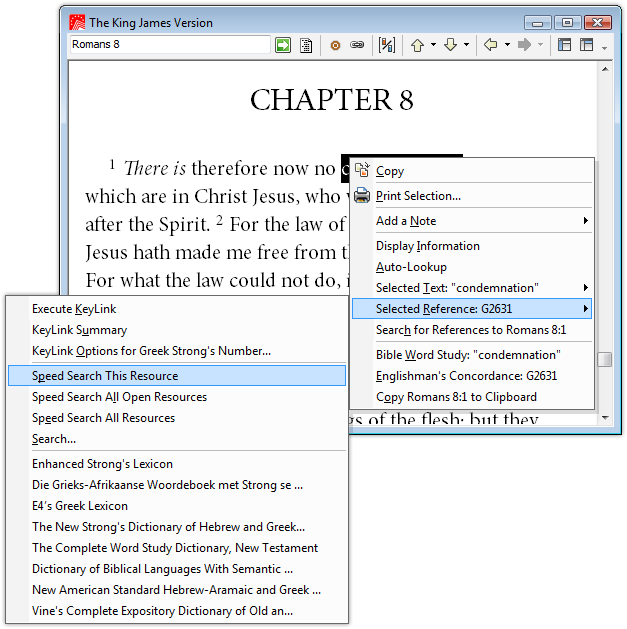 This will generate a search that gives you the same results as the Englishman's Concordance report, but provides a few additional options under "Other Tools."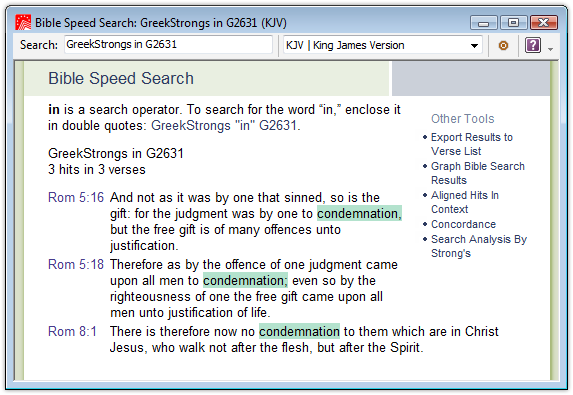 Searching for a Specific Strong's Number
You'll notice that when the previous search generates, it uses the standard Bible Speed Search window and populates the search box with GreekStrongs in G2631. What this means is that you can bypass the right-click menu and do a search directly from the Bible Speed Search if you are starting with the Strong's number you want to find.
For Greek words, you just need to type in something like GreekStrongs in G2631. Simply replace the Strong's number with the one you're looking for. For Hebrew words, you would type in HebrewStrongs in H6942. This allows you to instantly generate a report of all of the occurrences of a given Strong's number.
Searches like these will show you all of the occurrences of a particular Greek or Hebrew word, regardless of how it is translated in English. If you want to narrow the report to show you only the places where a particular Greek or Hebrew word is (or is not) translated with a particular English word, you would simple add to the search equals or notequals followed by your word. For example, GreekStrongs in G1680 gives you all of the places where this Greek word occurs. It is almost always translated hope. If you wanted to limit it to the places where it is not translated hope, you would search for GreekStrongs in G1680 NOTEQUALS hope. Here's another one to try: GreekStrongs in G26 NOTEQUALS love, will find all of the places where the main Greek word for love is not translated as love in the KJV.