This is the sixth post in my on-going series on the Bible Word Study (BWS) report.
This post will look into the Lemma Report sections of the BWS report.
To refresh our collective memories, we're looking at 1Th 2.16. Here it is in the reverse interlinear, with the phrase in question marked up using new Visual Markup features.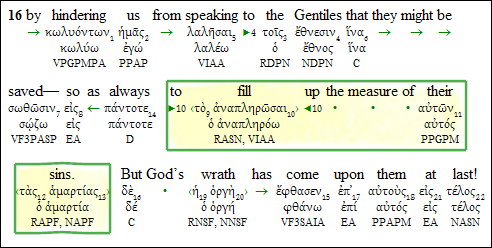 The Lemma Report sections have to do with understanding how the study word (ἀναπληρόω) is used both inside of the Greek New Testament and in other Greek literature, like the LXX (Greek Old Testament) and the Works of Philo.