Today's guest post is from Dr. Steve Runge, a scholar-in-residence at Logos Bible Software and author of the Lexham Discourse Greek New Testament, Lexham High Definition New Testament, and the forthcoming Discourse Grammar of the Greek New Testament: A Practical Introduction for Teaching and Exegesis.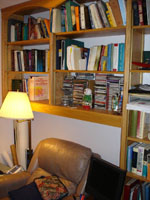 This would be the heading of my want ad if I were to post one. You see, ten years ago when we bought our house, one of the first personal projects I did was build a custom, floor-to-ceiling bookcase in my new office.
At the time I was regularly buying Journal for the Study of the Old Testament Supplemental volumes, scholarly commentaries like Word Biblical Commentary, ICC, and the Anchor Bible and whatever else I needed to write my MTS thesis. This bookcase was to be the showpiece of my scholarly man-cave. I even inherited a great leather chair from an aunt-in-law, the kind that was scratched by a cat and isn't allowed in the living room any more. Life was great—until something happened.