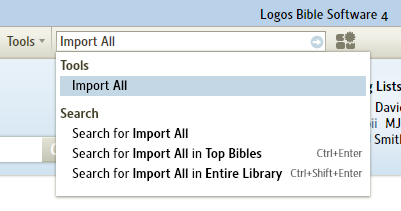 Yes, the wait is finally over. Yesterday's announcement of Logos Bible Software 4.0b mentioned what many have been waiting for: Support for importing LDLS3 user-created content.
Specifically, Logos 4.0b now supports importing notes, highlighting, favorites, and prayer lists. Along with this release, regardless if you are importing from LDLS3 or not, Notes now allow for user-editable titles, as well as creating Notes for a reference range, not just a single verse.
So without further ado, let's get your notes from Logos 3 to Logos 4.
Since resources have changed over the years because we've corrected typos, added new hyperlinks, and made other edits, in certain cases, these changes can prevent Logos 4 from importing notes from Libronix DLS 3 correctly. In order to minimize the likelihood of notes not being transferred, we highly recommend you download the Custom Toolbar for LDLS3 that prepares your notes for importing into Logos 4.
Getting the toolbar:
Run LDLS3, and click the newly added Update Notes Now button.
When Update Notes Now finishes, return to Logos 4.
Now are you ready for this? In Logos 4 type Import All into the Command bar, hit enter, and sit back. You'll then see the "Importing…" status message in the upper-right corner of the main window. That's it.
Content imported into Logos 4 "remembers" that it was imported such that consecutive imports can be run in Logos 4, without adverse effects. Changes to imported content in Logos 4 will clear the link between Logos 4 and LDLS3, so if you edit an imported item in Logos 4, and then re-import, you will see the original item from LDLS3 along with the edited item in Logos 4.This is intentional in order to recover an original note without over writing the new content.
If you no longer want to use some of your user-created content from LDLS3, but want other parts, like your extensive Prayer Lists, there are commands for a more targeted import.
Additional Commands:
Import Notes
Imports only notes from LDLS3
Import Highlighting
Imports only highlighting from LDLS3
Import Favorites
Imports only favorites from LDLS3
Import Prayer Lists
Imports only prayers lists from LDLS3
Import delete (All|Notes|Highlighting|Favorites|Prayer Lists)
Deletes all imported content of the specified type
If you were on the fence about upgrading to Logos 4 because you couldn't transfer your Notes, Highlighting, Favorites, or Prayer Lists, now is a great time to upgrade to Logos 4. Logos 4 is now better than ever, and you can be sure we're already working to add additional features.