It is time for the third installment in our series about the Bible Word Study Report (BWS). Parts 1-3 involved:
To refresh our collective memories, we're looking at 1Th 2.16. So here it is in the reverse interlinear, with the phrase in question marked up using new Visual Markup features.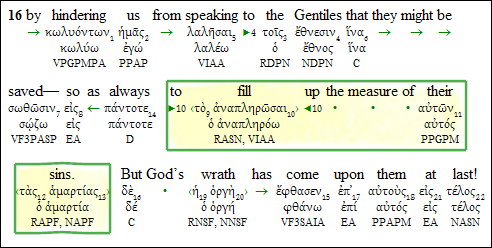 The information inside Grammatical Relationships allows you to see the different sorts of words or larger clausal units that are commonly (or uncommonly) used with the study word (in our case, ἀναπληρόω).
Word study isn't only about what the word means, it is also about how the word is used. The Grammatical Relationships section is the only place, apart from your own syntactic searches and study, where this information is presented to you. And it is done automatically, both in the original language and also, through the bridge of Reverse Interlinears, in English.
So let's begin our look at the Grammatical Relationships section of the report. There is a lot of information here, so we'll take two articles to work through it.
[Read more…]