Mac users can download the new and improved Bible Widget from www.LogosBibleWidget.comor Apple.com.
Thebiggest update is that thenew widget adds the ESV Bibleso you can instantly navigate to a verse in either the English Standard Version or King James Version Bible.
Logos Bible Widget version 2 is also much more streamlined, in response to requests from users who foundthe original widgetto be a desktop space hog. It's alsovery good-looking, if I may say so (kudos to Sean Fields, Logos design director)…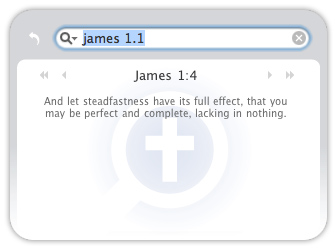 Using the widget is simple: Type a Bible reference to jump to that verse. Click the forward or back arrow to jump to the next/previous verse; click the double arrows to jump to verse 1 of the next/previous chapter. You can copy/paste text from the verse window into another application.
To switch Bible versions, just flip the widget over.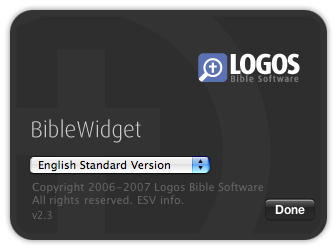 Related posts: