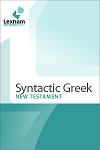 I've posted in the past regarding a project we've been working on with the good folks at OpenText.org; to make their syntactic analysis of the entire Greek New Testament available in Logos Bible Software. It is a massive project, and it will provide oodles of chunky syntactic goodness to Logos Bible Software users to inform and sharpen their studies of the New Testament.
But that isn't all that we've got cookin' on the Greek Syntax front. We've been working on our own syntactic analysis of the Greek New Testament. We're calling it the Lexham Syntactic Greek New Testament; this post (including a video link, see below!) introduces the work and begins to discuss it in some more detail.
I should say that this project involves a lot of work, and that it will be released in stages as the work progresses. We waited until we had the first major chunk — the General (or Catholic) Epistles, Hebrews through Jude — to consider a release. The first release (as happenstance would have it, perfectly timed with Logos Bible Software 3.0! What serendipity!) will therefore include these books. We hope to release an update in the spring that will include data for the book of Revelation. After that, the Pauline Epistles will trickle out over the following year or so; other books after that. At least, that's the plan for now.