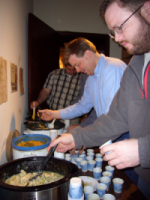 Last Friday was the sixth annual Logos Curry Cookoff. Logos Cookoffs are always fun days; the curry cookoff is one of the most fun. We had 17 different curries this year, and they were all excellent.
This year's winners were:
Bob Pritchett with Columbus' Loss
David Kaplan with Fire and Nice
James Van Noord with Green Monster
More pictures from the day are "below the fold". We also hope to blog at least the top three recipes so Logos users can enjoy some curry at home, too.