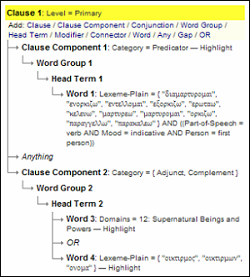 During the SBL national meeting in Washington DC, we'll be doing a session on Syntactically Annotated editions of the Greek New Testament. Here's the info:
Session: 20-101 — Syntactically-Tagged Databases of the Greek NT: Overview & Training Seminar Date: Monday — November 20 Time: 4:00 – 6:30 PM Room: Bulfinch – GH Description: Exegesis in the Greek New Testament concerns far more than semantics and parsing. Take the quantum leap with software that allows you to search for grammatical/syntactical structures and usage in the Greek New Testament.
During that session, I hope to run through a few examples of things I've been working on with syntax searching in the area of epistolary form criticism. That sounds a bit high-falutin', I know, but it has direct import on exegesis of New Testament epistles.
Think about it. Even today, we have certain "forms" that we use in particular types of communication. When we write a letter, we have a "Dear ______" salutation, we have a signature (e.g., "Sincerely, Rick" or something like that). Those are what could be called "forms". If you write a memo in your office, chances are you do it a particular way.
The same thing happens with ancient letters. There are particular "forms" for opening a letter. There are also forms closing a letter. And there are, some think, forms for other things in between.
If you're working through an epistle, wouldn't it be important to know if there are potential examples of these "forms", and to also be able to find where other instances of them are in the epistles? Might that not have an effect on exegesis?
This post introduces the idea in a little more detail. Subsequent posts in the series (I believe there will be five, though some may be broken up depending on size of post) will work through the structure of some proposed forms (see bibliography below) and examples of syntax searches designed to locate those forms. I hope to post once a week, but I may get off that schedule since we'll be in the holidays.