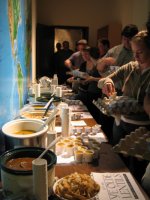 Last Friday (Sept. 15) was Soup Cookoff Day at Logos. We blogged the soup cookoff last year and wanted to do something similar this year.
This year the winner was actually my Dad (!) who loves soup so much we can't keep him away on soup day. Congrats to Dad and to the other winners:
1st Place: Chuck Brannan with "Chuck's Spicy Seafood Bisque"
2nd Place: Justin & Naomi Boyer with "Big Toe Baked Potatoe Soup"
3rd Place: Dave Kaplan with "Cheesy Chicken"
We had 20 soups this year. Your intrepid Logos bloggers didn't fare so well in the contest. My soup, "Sweet Panang'd Squash" didn't place; nor did Eli's "Ye Olde Lentils". I guess the Logos palatte wasn't ready for squash & lentils. Maybe next year …
More photos of the day are below the fold, so check 'em out!
Update: Several have asked about recipes. I'll see if the chefs who created the top 3 recipes will allow their recipes to be posted on the blog.