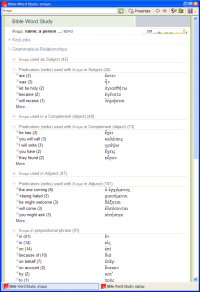 One of my favorite features in the upcoming Logos Bible Software 3.0 has to be the Bible Word Study report. And my favorite aspect of the Bible Word Study report has to be the Grammatical Relationships section of the report.
The Bible Word Study report is intended to help explore how a particular word is used in the Bible. English, Hebrew or Greek, just type it in and the Bible Word Study report goes to work. Even better: right-click on a word in an English text or a morphologically tagged Greek or Hebrew text, and it goes to work.
Because the report is intended to gather all sorts of information about word usage, and because we have these oh-so-groovy syntax databases we've been working on, it seemed natural to do something to explore word usage by syntax inside of the Bible Word Study report. So that's what we've done. And wow, is it cool!