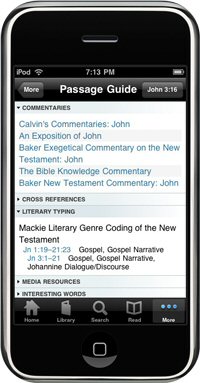 AppShouter.com called it "by far one of the best free Bible apps to hit the App Store." A writer for the Unofficial Apple Weblog lamented that he didn't have it when he read through the Bible in a year.
And just last week AppAdvice.com selected it as the "Essential Bible App."
So what makes the Logos iPhone and iPad app so great?
Free
The Logos bible app is free. It gives you access to 40+ different resources from Biblia.com (another free service from Logos), including 30 Bibles such as the HCSB, NKJV, ESV, NLT, NASB, and KJV.
You also get an additional 30+ free resources by simply creating a Logos.com account and signing in from the app.