Each year here at Logos, we have an inter-departmental Christmas decorating contest. The rules are pretty simple: Each department decorates its area, judges come around at the appointed time, and a winner is declared.
For the past few years in a row, the Logos Accounting department has won both the decorating contest and the bragging rights. It's not hard to see why: The "Accounting Angels," as they call themselves, are a group of ladies who are serious about their Christmas Spirit. In short, the Accounting department has been something of a juggernaut in this contest.
Now, when I first started working at Logos, ten years ago, it was in a department called Electronic Text Development, or ETD for short. Logos was in Oak Harbor, Washington in a 100-year-old feed and seed building that had been converted into office space. We were downstairs and around the back. Some people called it The Dungeon, but I thought it was cozy enough.
So long as Rick Brannan and I were there — which I reckon at either eight or nine Christmases — ETD never decorated. Never. We were the conscientious objectors: too cool, too serious, and (ahem) too busy to be bothered. ETD always came in last in the decorating contest, and that's the way we liked it.
No longer. Rick and I are now in the Design & Editorial department, and ETD has grown from six to twenty-three strong. They're no longer in a dungeon, but in the sparkling new office space here at Logos. They are a force to be reckoned with, and they took the Christmas decorating contest hands down. There were bows. There were snowflakes. There were streamers, tinsel, and ornaments. But there was also a cardboard-and-paper fireplace, complete with chestnuts roasting on the hearth. There was a sleigh and reindeer hanging from the ceiling. It wasn't even close.
Well … don't take my word for it. See for yourself:
---
1. The aforementioned reindeer and fireplace in ETD. The fireplace flames moved with the aid of a small fan hidden behind the logs.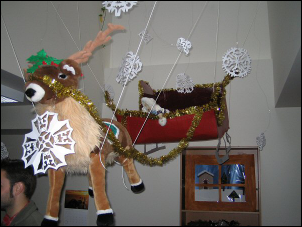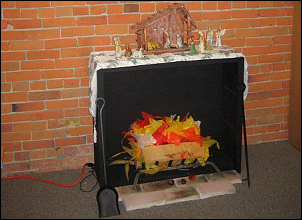 ---
2. Sometimes, it's the little things. This was spotted among ETD's decorations: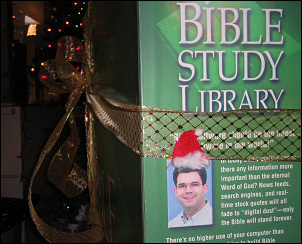 ---
3. The Accounting Angels gave ETD a run for their money.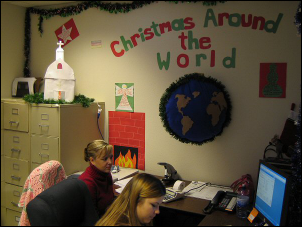 ---
4. LDLS Software developers: festive, yet serious.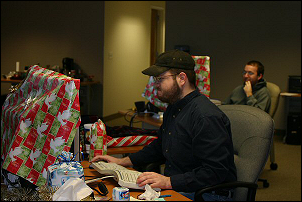 ---
5. I'll let Customer Service have the last word: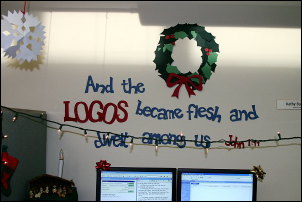 ---
Merry Christmas!
(PS, This year it was Design & Editorial that came in last. Way to go, guys!)