As promised, here are the results of the seventh annual Logos Chili Cook-Off. A good time (and a little indigestion) was had by all. There were thirteen chilis entered, but three were named the crowd favorites.

Watch a 3.5 minute video of Chili Day 2006! (.wmv | 9.4MB)
---
Third place went to an original recipe dreamed up by Donna Bryant in the Accounting department, Grandma's Old Folks Chili.
Ingredients: 2 LB ground beef, 2 LB ground sweet Italian sausage, 2 cans tomatoes with garlic and spices, 1 med. can tomato paste mixed with 3/4 can of warm water, 1 can Bush's Maple and Bacon Baked Beans, 1 can kidney beans, 1 can navy beans, 1 can black beans, 1 can Nalley's Chili with Onions, 1 large sweet onion diced, 3 stalks celery sliced, 1/2 large green pepper diced, McCormick's steak grilling seasoning.
Procedure: Brown the meat lightly sprinkled with McCormick's. Take out of the pan and leave the grease to sauté the onion and celery, green pepper till soft. Add all the ingredients into the large crock pot, stir well and cook on high for about an hour then turn down to warm and let it cook all night about 7 hours.
---

Second place went to Rick Brannan's Pork Chile Verde. That's right folks, not only can he blog with the best of them, but he's a formidable presence in the kitchen as well. (Sorry ladies, he's already spoken for.) His recipe consisted mainly of tomatillos, jalapeños, cilantro, and garlic with small chunks of pork. Definitely not kosher, but tasty nonetheless.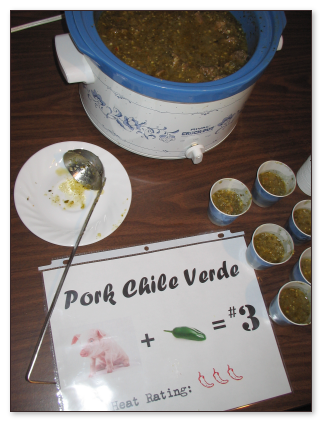 ---
And first place went to yours truly. Finally, the recognition I deserve! It was an honor just to compete. You can find the recipe for my concoction, Chilisaurus Rex in the recipe collection on my personal website (which is not endorsed by Logos Bible Software, of course). I'd like to thank everyone who contributed to the effort that made this win possible, which is pretty much just me.
Seriously, though, I've entered every single Logos Chili cook-off — all seven of them — and I've never done better than third place. I've never even gotten into the top half with any of my previous Texas-style chili con carne attempts (there have been three). Of course, they weren't any good, so I can't complain. Last year I didn't even vote for my own chili. This year I did, and I didn't feel bad about it.