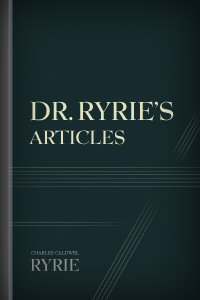 Dr. Charles Ryrie, a key figure in dispensational theology, wrote dozens of articles published in academic journals and popular periodicals. December's Free Book of the Month, Dr. Ryrie's Articles, compiles a number of these works in one helpful resource. Articles include:
"Biblical Teaching on Divorce and Remarriage"
"The Significance of Pentecost"
"The Pauline Doctrine of the Church"
"Calvinistic Emphases in the Geneva and Bishops' Bibles"
"The Doctrine of Capital Punishment"
And many more
On top of authoring over 25 books and a number of articles, Charles Ryrie served as professor of systematic theology and dean of doctoral studies at Dallas Theological Seminary and professor at what is now Cairn University.
"Ryrie's greatest legacy may well be making the Scriptures he reveres more understandable to lay people."—Larsen T. Bebbington
When you download this month's free book, you can also enter to win all 31 volumes of Charles Ryrie's Legacy Collection, which features books like:
Ryrie Study Bible, Expanded Edition (3 vols.)
The Role of Women in the Church
What You Should Know about Social Responsibility
What You Should Know about Inerrancy
First and Second Thessalonians
Ryrie's Practical Guide to Communicating the Bible
And 25 more titles!
Don't wait. Download Dr. Ryrie's Articles now, and enter to win the Legacy Collection!
*  *  *
It's time to upgrade to Logos 5. See the special pricing our Custom Upgrade Discount Calculator has for you.