[Note: this is one in a series of posts on Greek syntax and Logos Bible Software. See the Greek category for a full listing. The immediately previous post is here.]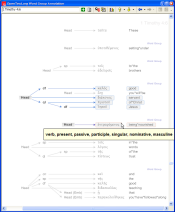 As mentioned in a previous post, the OpenText.org syntactic analysis consists of three primary levels of annotation:
Base Level Analysis (Word)
Word Group Analysis
Clause Analysis
This post will introduce you to the Word Group level of analysis. If this sort of stuff floats your boat, then read on.