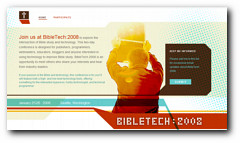 The first-ever BibleTech conference is only days away! It looks like there will be about 90 attendees at the conference—some of which will be flying in from as far as Hong Kong and England.
We at Logos aren't the only ones getting pumped about the event. Several of the presenters have blogged about BibleTech:2008 and what they will be speaking on. Check them out!
There is a final session schedule now available at the BibleTech:2008 website. If you are going to be there, you can go ahead and start planning which sessions you want to attend.
We know that many of you aren't going to be able to make it to the conference, so we'll try to bring you some of the highlights here at the Logos blog. It looks like at least one of the attendees is planning to blog about the conference as well. I'm sure others will too. We'll bring you the roundup of all the BibleTech:2008 goodness right here, so be sure to check back!