I was reading in 1Th 3.5 the other day and came across the phrase "for fear that somehow the tempter had tempted you" (ESV). Here it is in the ESV NT Reverse Interlinear: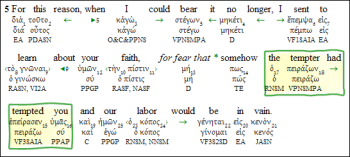 You can see the phrase highlighted using some of our new Visual Markup features. If you click and view the larger picture, you'll see that the same lexical form (πειράζω) is repeated in the verse. Not only is it repeated, but one instance is the subject of the clause, the other is the predicator (verb) of the clause. The syntax graph from the OpenText.org Syntactically Annotated Greek New Testament shows this a little better:

Is this exegetically significant? Perhaps. But I also had the question — how many other times is the same word used as both subject and verb in the New Testament?
With syntax searching and Logos Bible Software 3, it is a relatively easy question to answer.
As an added bonus, I've even included a video of setting up the search. This video is the first in which you'll hear my "smooth dulcet tones" (as the colleague sitting next to me describes it) narrating the action. You can try the video (Flash, 12 megs, with audio) but be sure to read the description below the fold as well.
[Read more…]