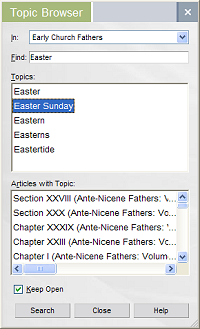 Reading Bob's post and seeing the picture of Eli holding 37 volumes of the Church Fathers' writings brings back memories.
I remember when we did the ECF project. That was Eli's baby, and what an incredible job he did in pullling that thing together. I can recall helping his team out by proofing through Greek in footnotes to make sure it was actually correct. I think I may have even keyed some of the footnotes.
But what I remember most is the topical index.
Huh? You didn't know that the 37-volume Logos Bible Software edition of the Early Church Fathers has a topic index? Well, it does. And that particular topic index doesn't exist anywhere else.
This article looks back on how all that happened. Ahhhhhh … nostalgia!
It must've been 1996, but it sure doesn't feel like it was that long ago. Eli and I were just figuring out what it meant to make electronic books, and were "kicking the tires" both with LLS resources and with our still-developing programming skills.
[Read more…]