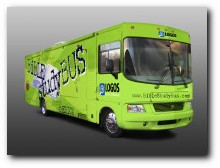 Logos is taking the Bible Study Bus back on the road this summer!
Right now we're working hard to line up host churches in cities all across the country. If you're able to open your churchor school foran event, please check the itinerary at www.BibleStudyBus.com and then fill out this brief survey with some details about your venue.
The following article should give you a flavor of what the tour will be like.