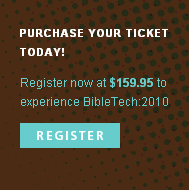 What is in store for the next generation of Bible technologies? How is mobile technology changing the way we experience the Scriptures? How is social media transforming the way the people of God approach biblical community? What are the processes and implications of putting the Bible into a format like the Xbox 360? What software and applications are affecting the way that the Scriptures are translated? These are the kinds of questions that industry insiders will be answering, March 26-27, at BibleTech:2010.
This year's BibleTech presenters come from a diverse background of educators, programmers, developers, publishers, executives and ministry leaders. This diversity provides a well-rounded platform from which to speak about the number of ways that technology is influencing how we approach and study the Scriptures.
Your registration gives you access to more than 25 sessions, three catered meals, and a conference T-shirt. But perhaps even more importantly, you will build a network of contacts with others who share your interests.