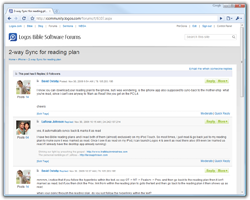 If you've never explored the Logos Bible Software Forums, you're missing out on a lot of great interaction with other Logos users. Since we launched the site in June, we've had more than 10,000 people join and write almost 53,000 posts. We have forums for general discussion, Logos 4, Logos 4 for Mac, Logos 3, Logos for Mac 1, our iPhone app, making suggestions, Español, posting files, and getting help with RefTagger. There are always lots of informative (and lively!) discussions going on.
As we pointed out a couple of weeks ago, the forums are one of the best ways to get answer to your questions fast—especially during this very busy time with the launch of Logos 4 when our phones are ringing off the hook.
But the forums aren't just for finding answers to questions. They're also a wonderful place for meeting and interacting with people from all over the country and the world who enjoy studying the Bible as much as you do.
Whether you're looking to get answers to questions or just want to join a community of people who love doing Bible study with Logos Bible Software, you'll get the most out of the forums by spending a few minutes getting set up properly. Here are some of the things I'd recommend.