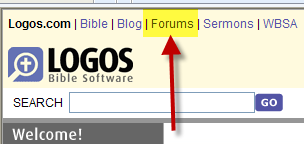 …use the Logos Community Forums!
With the launch of our most significant product ever—Logos Bible Software 4—there are bound to be some questions. As you can imagine, our phone lines are busier than ever with excited callers trying to either order the brand new collections, upgrade to the new packages, or get answers to some very common questions on this completely "new to everyone" product.
We've tried to answer some of the most common questions on our product pages, in our Technical FAQ, and in our General FAQ. As always, we are happy to try to answer any other questions you may have over the phone, but our lines are so busy right now (even with extended hours until 9:00 PM Pacific, additional staffing, and lots of overtime) that wait times are much longer than normal.