We've talked about how to start up the report with a Greek word from the ESV English-Greek Reverse Interlinear, and we've talked about the report header. Today we talk about the KeyLink section of the Bible Word Study report.
To refresh our collective memories, we're looking at 1Th 2.16. So here it is in the reverse interlinear, with the phrase in question marked up using new Visual Markup features.
So let's look at KeyLinks.
In the parlance of Logos Bible Software, KeyLinking is how you move from a reference (be it implicit or explicit) to more information about that reference. So when one clicks on a Bible reference and jumps into a Bible, one is KeyLinking from the reference to more information about the reference.
The same thing can be said of moving from a word (in our case, ?????????) to more information about that word in a dictionary or lexicon. There is a standard reference form (in this case, the dictionary form or lexical form or lemma) and a reference target (dictionary or lexicon) that is ordered by that standard reference form.
When we KeyLink in the reverse interlinear from a Greek word into a lexicon or dictionary, there is usually only one book that is the target. For me, in the Greek, that means I KeyLink into BDAG. But if I'm really studying a word (like ?????????) I want to consult more than one lexicon.
This is what the KeyLinks section of the Bible Word Study report is designed to do. It hits all of your Greek dictionaries and lexicons looking for more information and nicely arranges a list, in your preferred book order, that we can consult for more information.
In other words, your research assistant went and grabbed the books off of the shelf, found the right articles, and slipped in bookmarks (or post-it notes, or folded the corner of the page … whatever you prefer), and left them out for you to consult as you have need.
Here's what my KeyLinks section looks like for our report on ?????????:

The first five books with information are layed out, in preferred order, to consult. From here we can do a few things:
Expand definition in place
Link to resource for full definition
Click More for more references
Expand definition in place
To do this, just click the plus sign to the left of the book you'd like to look into. In the Bible Word Study report, the plus means expand and minus means contract.
In the below image, I've expanded the first definition by clicking the plus. It grabs the whole article or a decent sized chunk thereof (whichever is smaller) to display. If I want to see more of the article … well, I can click More.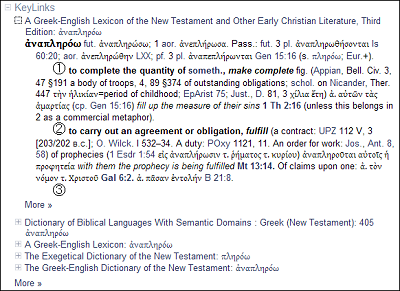 This works for any item listed in the KeyLinks section.
Oh, did you notice that all of the abbreviation expansions (pop-ups) and citations are still active, even in the report window? Just hover, or click to look up the reference (remember, you're doing another KeyLink when you click!) in its full context.
Link to resource for full definition
Instead of reading the definition in-place in the report, we could click on the title to open up the book in question to the proper location.
Click "More" for more references
If you would like to consult more dictionaries or lexicons, you can. Just click the More link, and your research assistant will go scurrying through your library, finding links in volumes you haven't consulted yet — sorted in your order of preference, of course.
And That's Just the KeyLinks!
In the next post in this series, we'll be moving into the Grammatical Relationships section. There's a lot going on behind the scenes in that section, so we may stay there for a bit.