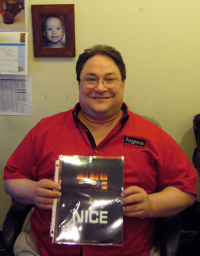 We mentioned our Sixth Annual Logos Curry Cook-Off last week and promised recipes of the top three curries.
David Kaplan's curry "Fire and Nice" was second only to Bob's first-place effort. Here's the recipe. David's notes are a little more involved, but the curry was really yummy so it is worth the effort.
Three pounds chicken tenders – DO NOT CUT UP
¼ cup vegetable oil
Two tablespoons Habanero powder
Two 15 oz. cans of chicken broth
5 large onions – cut into large chunks
Three medium heads of Broccoli – using only the flowerets.
Two very large red apples — Peel and cut into ¼" thick slices. DO NOT DICE UP.
A Boat load of curry powders — three different kinds. One was a Jamaican Style by "Spice Right" where the first ingredient was ginger. One was a "Miami Spice" curry powder where the ingredients are unknown, all it said was "A Blend of Natural spices including Tumeric". The other Curry powder was from the bulk section at the grocery store. I never measured the curry powder, just kept dumping it in until I saw the color I wanted and it smelled robust.
Salt
Pepper
one tablespoon Garlic powder – not too much. It will overwhelm the other flavors.
First I put the chicken tenders in a huge bowl and dumped in a boat load of curry powders and mixed it up real good. Then I let the tenders sit for about 15 minutes mixing every five minutes. It was kind of like doing a rub.
Then I put the chicken tenders and vegetable oil in a large soup pot and cooked them until firm – stirring often.
Then I added the onions cut into large chunks. (This is for texture in the final product). and more curry powders. Cook for another 15 minutes stirring every three minutes or so.
Then add in the Chicken broth, garlic powder and the Habanero powder, cook for another 20 minutes. Stirring every five minutes.
Then add in the apple slices, and broccoli and more curry powder and cook until you can't discern that there was ever any broccoli in the recipe (about 45 minutes). Stir vigorously every ten minutes or so. There will be a few small chunks of apples still discernable. The chicken will be fairly chunky still, but a lot of it will have broken down into the mix.
All the while you're cooking – keep tasting, and salt and pepper to taste.
Then put it in the fridge over night. It tasted better the next day.