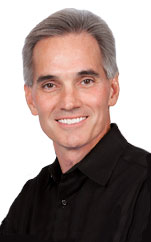 Today's post is from Morris Proctor, certified and authorized trainer for Logos Bible Software. Morris, who has trained thousands of Logos users at his two-day Camp Logos seminars, provides many training materials.
The reverse interlinear is, in my humble opinion, one of Logos' greatest contributions to modern Bible study. This feature, which connects a Bible's English translation to its original text, allows us to investigate Greek and Hebrew words even if we don't have original-language training.
With the recent release of Logos Bible Software 5.1, a small enhancement made the reverse interlinear even better. Here's how to use it:
Open an English Bible containing the reverse interlinear option, such as the ESV, LEB, NKJV, or NASB.

Click the Interlinear icon on the Bible's toolbar to open the reverse interlinear pane at the bottom of the panel (

A

).
Navigate to a location in the Bible, such as Colossians 3:16 (

B

).

Click a word in the biblical text, such as dwell (ESV) (

C

).
Notice that the reverse interlinear pane jumps to that word (

D

).