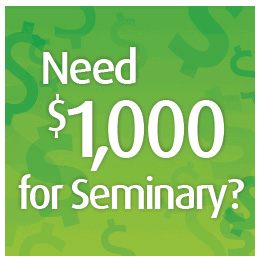 Admit it. You would love to start the new year with an extra $1,000 to cover your tuition costs. And how would you like to own a Logos Bible Software Scholar's Library, a digital theological library which contains almost 500 titles, would cost nearly $8,000.00 in print equivalent, and would be with you well after you graduate and are in the ministry?
To put it another way, wouldn't you love a full-time personal research assistant to help you through Seminary or Bible College and for this research assistant to foot $1,000 of your tuition bill? That is what we are giving away—soon!
In a few days, on January 10, 2011, Logos will be awarding at least two applicants exactly that through our SeminaryScholarship.com and BibleCollegeScholarship.com giveaways—which means you still have only few more days to enter!
With most scholarships, you typically don't want to tell your friends about it because the more applicants there are, the less chance you have of winning. With our scholarship giveaways, the exact opposite is true. The more of your friends that apply, the greater chance you have of being awarded a scholarship! Like I said, at least two people will win, but possibly up to four.
If you refer someone to our scholarship and in their application they indicate that you referred them, if they win the scholarship, then we'll give you a scholarship too! You could both get a $1,000.00 tuition scholarship and a copy of Scholar's Library. But first you'll want to apply!
Apply for our Seminary Scholarship.
Apply for our Bible College Scholarship.
Then to make it easy to share, here's what you'll want to do:
Post a link to SeminaryScholarship.com or BibleCollegeScholarship.com on Facebook, Twitter, or your blog. You could even send your friends an email or give them a call. The most important thing is to remind them to put your name in the "other" section of the "How'd you hear about the scholarship?" That way we can make sure you get a scholarship too, if they win.
So what are you waiting for? I'm sure it would feel great if you won the scholarship. But wouldn't it feel better if you helped someone else win it too?
Spread the Word:
Facebook: Login to your Facebook account and post the link http://www.SeminaryScholarship.com or http://www.BibleCollegeScholarship.com on your wall. Be sure to include a line that lets your friends know what the link is all about. Something like, "If you are in seminary (or Bible college), here is a scholarship that might help you out." You can also just click here to share SeminaryScholarship.com on Facebook or here to share BibleCollegeScholarship.com on Facebook.
Twitter: Post a tweet with a link to http://www.SeminaryScholarship.com or http://www.BibleCollegeScholarship.com. Not sure what to tweet? You can just click here and tweet this for Seminary or click here and tweet this for Bible College.
Blog: If you have a blog, you can help out in two ways. First, you can write a post on your blog letting your readers know about the scholarships. Second, you can add one of our web banners for Seminary Scholarship or Bible College Scholarship to your site.
Not sure what to write? Try this:
Need Money for Seminary or Bible College?

Tired of searching for scholarships? In just a few days, Logos will award at least two $1,000.00 tuition scholarships along with a copies of Scholar's Library through their Seminary Scholarship and Bible College Scholarship programs!

The scholarships are open to all students currently enrolled in an accredited theological Seminary or Bible College located in North America, or those who plan on enrolling within the next 8 months. All you have to do is watch a demonstration of Logos Bible Software and fill out a brief application. Once your application is submitted you will be entered to win a $1,000.00 scholarship and a digital theological library that, in print, would cost nearly $8,000.00!

Enter before January 10th!

Going to Seminary? www.SeminaryScholarship.com
Going to Bible College? www.BibleCollegeScholarship.com