How's your Bible reading going? If you're like many Christians, you probably made plans to read through the Bible (or a portion of it) this year. If the statistics are correct, right about now many of you might need a little encouragement to stick with it. Or maybe the new year crept up on you, and you never even got around to picking a reading schedule for the year.
Either way—whether you're just getting started or trying to stick with it—let me encourage you to consider doing your 2010 Bible reading in Logos Bible Software 4. I can't promise that it will keep you on track all year, but there are five reasons I think it could be a big help.
With Logos Bible Software 4, you can
start and end your Bible reading schedule whenever you want
customize your reading schedule to fit your schedule and pace
recover from missed days and stick with it
read your Bible anywhere
turn Bible reading into Bible study with ease
Let's take a look at each one of these.
1. Start and end your Bible reading schedule whenever you want.
With most traditional Bible reading plans, you start on January 1 and finish on December 31. So if you didn't start your Bible reading on the first day of the year, chances are you probably aren't going to try—it's just too much work to get caught up.
But that doesn't have to be the case if you do your Bible reading in Logos 4. Your Bible reading plan can start and end any day of the year. You can just as easily set up your plan to start today. With Logos 4 every day is a good day to start reading the Bible.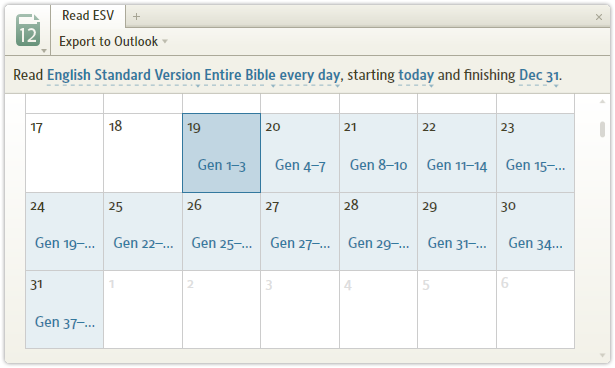 2. Customize your reading schedule to fit your schedule and pace.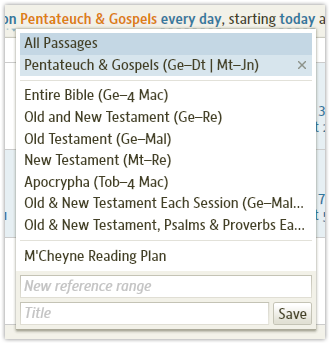 There are lots of good Bible reading plans freely available on the internet. Some let you read straight through the Bible from Genesis to Revelation. Others have you read through the OT and the NT at the same time. Others throw in a Proverbs a day. Still others include a daily reading from the Psalms.
While there are a wide variety of plans available, there may not be a plan that's a perfect fit for you. Scheduling your reading in Logos 4 means you can create just the right plan. You decide when to start and finish, how often to do your readings, what portions of the Bible to read, and how much to read at each sitting. There's no need to be forced into a plan you can't maintain with your schedule.
In Logos 4 there are several predefined plans, but creating your own unique plan is easy. Go to File > Reading Plan, or type "Create Reading Plan" into the Command Bar and hit enter. Click on "All Passages" and choose one of the default plans, or enter your own custom range. For example, if you want to read from multiple places in the Bible each day, separate the ranges with a pipe. Ge–Dt | Mt–Jn would give you a reading from the Pentateuch and the Gospels each day. You can even create your own chronological reading plan using a variety of custom ranges.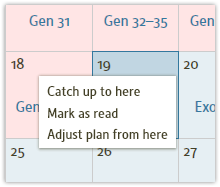 3. Recover from missed days and stick with it.
According to the statistics I've seen, the majority of people who set out to read through the Bible or a portion of the Bible in a year end up throwing in the towel pretty early on. If you miss a few days, it's easy to feel so far behind that you can't get caught up. You could just adjust your schedule, but a print schedule doesn't really lend itself to changes.
That's the beauty of Logos. If you fall behind and can't get caught up, instead of quitting you can just select "Adjust plan from here," and it will push everything back (update: this feature is in beta and will ship soon!). Or you can just skip the readings you've missed by selecting "Catch up to here"—not ideal, but definitely better than quitting. If you'd rather still end on the same day and not skip any of your readings, it's easy to quickly edit and rebuild your plan.
4. Read your Bible anywhere.
For the sake of consistency, it's ideal to do your Bible reading at the same time and in the same place every day. But that's not always possible. What often happens is that if you miss your scheduled Bible reading time, you end up missing the day (and one missed day often leads to another). You may have other opportunities during the day to do your reading, but you don't have a Bible handy or can't remember where you left off.
Logos 4 makes it easier than ever to do your Bible reading anywhere. Your reading plans are synced between your computers, so whether you're at home, at the office, or on the road, you can keep up with your reading. With the Logos iPhone app, you can even take your reading with you in your pocket. I've been doing most of my Bible reading this year on my iPod Touch, and I've thoroughly enjoyed the ability to make the most of my bus trips to and from work* and the convenience of reading in bed.
5. Turn Bible reading into Bible study with ease.
If you're reading the Bible carefully, you're likely going to have questions about the meaning of a word or a verse or the location of a parallel passage or cross reference. Many print Bible's have basic cross references and notes, but even with a good study Bible you're going to come up empty handed on occasion. Digging deeper with print resources can take a lot of time and effort, and doing your reading in a print Bible means you'll probably be more likely to pass up on the opportunities to turn reading into fruitful study and meditation. The beauty of Logos is that you can get answers in just a few minutes to just about any question that arises while you read. If you want to take your Bible reading to the next level this year, Logos 4 might just be exactly what you need.
Whether you're just now considering a reading plan for 2010 or you're on the brink of giving up on one, I'd encourage you to get started today with Logos Bible Software 4.
* In order to do my Bible reading on the bus, where I don't have Wi-Fi access, I have to make sure to look up my reading before I'm out of Wi-Fi range at home or at work. But this will no longer be an issue. We're currently beta testing offline support for reading plans, and it works great. It's coming to an app store near you soon!