If you're learning a new language, mastering the most commonly used words is an essential task. Did you know that Logos makes available 24 different vocabulary lists taken from the most popular grammars to help you? We currently have 14 different Greek vocabulary lists, 7 Hebrew, 2 Aramaic, and 1 Akkadian. The best part is that all of these lists are free. Just download them and save them to C:. . .My DocumentsLibronix DLSVocabularyLists.
The two latest additions are the lists from Learn to Read New Testament Greek by David Alan Black and Essentials of New Testament Greek by Ray Summers. Visit our Vocabulary Lists page to download these new lists—and any of the others you'd like. You don't have to own the corresponding resources to make use of the vocabulary lists.
Once you've downloaded them, you can access your new lists in Logos by going to File > Open, selecting "Vocabulary List" from the Types column, and then selecting the list of your choice from the Documents column.
With your list opened, you have the ability to add to it, edit it, and print out vocabulary cards that you can carry with you and review between classes or when you're away from your computer.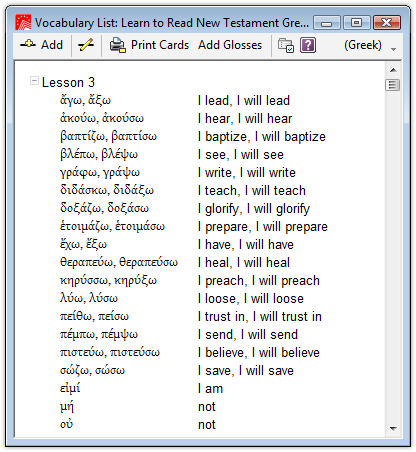 If you're not a fan of print vocabulary cards, you can work through the lists right in Logos. Just grab another Window and cover up the right column. Move it down after you guess the meaning for each Greek word.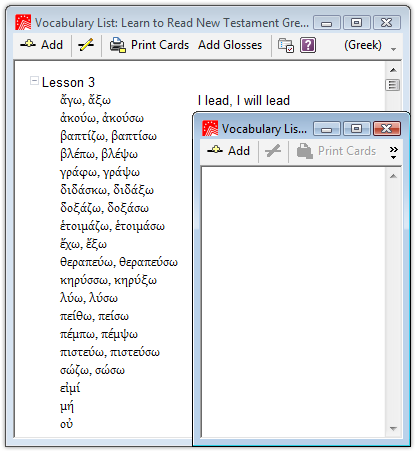 Visit our Vocabulary Lists page to download the available lists.