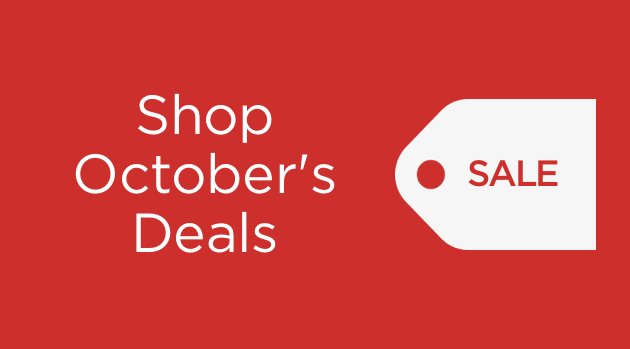 October's deals are here! This is your chance to build your library based on the topics you're interested in, choosing from a wide range of resources at great savings. There are a lot of great deals to choose from this month, but here are six that we really think you'll want to know about:
1. The N.T. Wright Collection (52 vols.)—35% off
This massive collection includes the Christian Origins and the Question of God series, the entire New Testament for Everyone series, and many other works by one of today's most influential Christian thinkers. Already own part of the collection? You'll pay only for what's new to you!
2. The Bible Knowledge Background Commentary: New Testament (3 vols.)—19% off
These three volumes, edited by Craig A. Evans, guide you through each book of the New Testament verse-by-verse while exploring the historical, cultural, and economic setting of the writings. Better understand how the New Testament's first readers would have understood it by understanding their world.
3. Ancient Christian Writers Bundle (66 vols.)—20% off
Explore the riches of early Christian writings. This bundle presents critical translations of important texts from the Church's first four centuries—including many works translated to English for the first time. Get essential works from Justin Martyr, Athanasius, Augustine, Jerome, and many others.
4. New Testament Text and Translation Commentary—21% off
In this accessible commentary, Philip W. Comfort examines variant readings of New Testament texts, providing an introduction to textual criticism. He also discusses the challenges translators of English versions face and surveys all major English translations. Build your knowledge of textual criticism and why it matters with Comfort's clear explanations.
5. The Essential Works of Jonathan Edwards (11 vols.)—27% off
Want to study Edwards' writings, but don't need the massive collection? This selection gives you 11 of the most important volumes from the series, with more than 7,000 pages of content. The volumes include insightful analysis on Edward's life and thought, providing helpful historical context.
6. Westminster Bible Companion Series (33 vols.)—25% off
This series offers concise, highly readable discussion that explains each biblical book in its original historical context and explores its significance for faithful living today. And the volumes are written by top scholars—Walter Brueggemann, Terence E. Fretheim, Eugene Peterson, and others.
That's just the beginning of course. Browse all of October's deals, and find just what you're looking for.