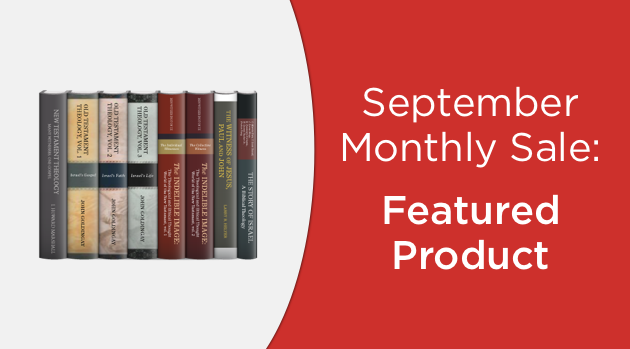 This month, you can save on a new collection featuring some of the most popular biblical theologies available from IVP. The IVP Biblical Theology Collection Upgrade features these works:
New Testament Theology: Many Witnesses, One Gospel by I. Howard Marshall
In this acclaimed work, Marshall highlights the theological voices of individual New Testament books, while gradually building up a unified idea of the New Testament's theology. Sharpen your understanding of the New Testament with his insights. Get it in this collection to save.
Old Testament Theology (3 vols.) by John Goldingay
In three volumes, John Goldingay explores Old Testament theology as narrative, belief, and ethos. He first analyzes the story of God's dealings with Israel, then Israel's faith, and finally Israel's worship, prayer, spirituality, practices, attitudes, and ethics before God. This thoughtful work is invaluable for understanding, preaching, and teaching the Old Testament. Get it in this collection to save.
The Indelible Image: The Theological and Ethical Thought World of the New Testament (2 vols.) by Ben Witherington III
In his first volume, Witherington explores the thought world of Jesus and the individual New Testament writers, showing how they applied their understanding of the Gospel to particular, concrete situations. And in the second he analyzes the writers' message as a collective call for all believers to be conformed to the indelible image of Jesus Christ, emphasizing that theology and ethics should not be separated. Get both in this collection to save.
The Story of Israel: A Biblical Theology by C. Marvin Pate, J. Scott Duvall, J. Daniel Hays, E. Randolph Richards, W. Dennis Tucker Jr., and Preben Vang
This volume presents the biblical story of Israel as a finely articulated drama—the universal story of the glory and the plight of humanity and creation. Explore the unitive theme of the story of Israel from Genesis to Revelation and get a compelling perspective on biblical theology. Get it in this collection to save.
The Witness of Jesus, Paul and John: An Exploration in Biblical Theology by Larry R. Helyer
In this book, Helyer turns to three major witnesses of the New Testament: Jesus, Paul, and John, finding in them the key to unlocking the message of the Bible. He also introduces you to the goals and practice of biblical theology, the problem of the unity of the Bible, and two evangelical approaches to biblical theology: dispensational and covenant theology. Get it in this collection to save.
Get new insights into biblical theology with these diverse works. And this month only, save 31% on the collection. Already own some of the volumes? You'll only pay for what's new to you.