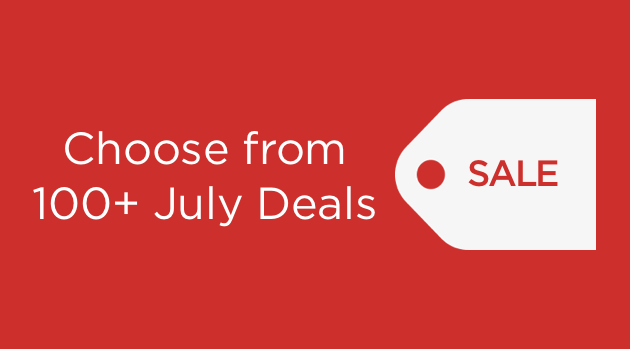 With July's monthly sale, you can save on more than 100 products—commentaries, theological studies, language resources, and more. Not sure where to start? Check out these six featured deals:
1. Biblical Counseling Collection (27 vols.)—40% off
This collection gives you informative studies on general Christian counseling, as well as very focused works on women's and men's counseling needs, counseling victims of sexual abuse, eating and diet issues, dating, and more. If you're a pastor or a counselor, you'll want these helpful volumes in your library.
2. For the Love of God, vol. 1: A Daily Companion for Discovering the Riches of God's Word—38% off
In this daily devotional, D.A. Carson takes the exciting task of reading the entire Bible in a year to the next level with his edifying comments and reflections for each day's passage and his ability to place each reading into a larger framework of history and God's eternal plan.
3. Analytical Bible Expositor (27 vols.)—37% off
John G. Butler offers clear, direct analysis that combines exposition with practical application. His chapter-by-chapter organization and verse-by-verse commentary clearly outlines the meaning and the message of the Scripture, making this series valuable for individual study, preaching, or teaching.
4. Beginning Biblical Hebrew—21% off
Mark Futato offers a concise, clear, and well-thought-out presentation of Biblical Hebrew. Each chapter offers a digestible amount of information, without sacrificing key elements. This volume also includes exercises that are drawn largely from the Hebrew Bible itself. If you want to build your knowledge of Hebrew, this is a great place to start.
5. Mentor Commentary Series (16 vols.)—32% off
The Mentor Commentary Series combines a high view of Scripture with theological scholarship. You'll get detailed commentary, thorough exegesis, and probing questions on literary, interpretive, and contextual issues. Understand the meaning of Scripture, and clarify its relevance for your life.
6. Got Questions? Bible Questions Answered—44% off
This valuable reference work covers more than 2,000 questions on God, sin, salvation, the church, prayer, and more. Address your own questions and those of others with clear, biblical answers.
And there's much more. Browse all the deals—with so many products on sale, there's something for everyone!