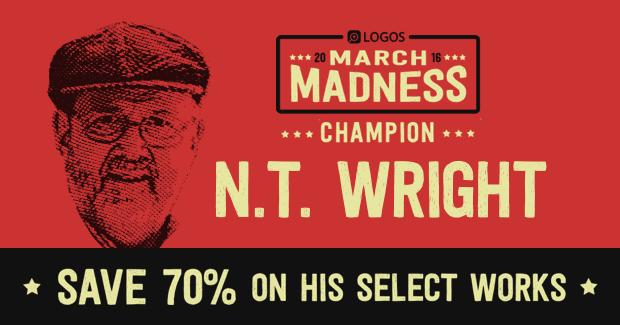 Your Logos March Madness champion
Logos March Madness started with 64 authors facing off for your votes. After six rounds, and thousands of votes cast, you've chosen N.T. Wright as the 2016 Logos March Madness champion! Wright wins the title, but you also win. Get 70% off more than 50 of his works, including Paul and the Faithfulness of God, The New Testament and the People of God, volumes from the New Testament for Everyone Series, and much more!
Get 60% off selected works by J.I. Packer
J.I. Packer gave a strong performance on the way to the championship, winning all his matches before now with large margins. Get 60% off A Quest for Godliness, A Passion for Faithfulness, Concise Theology, and other works by Packer.
Don't miss all the other deals
Get 30 to 50% off more than 1,500 products from round 1-5. There are so many great deals to discover, including:
30% off selected works by John MacArthur, including the John MacArthur Sermon Archive
35% off Mobile Ed courses and books by Michael Heiser, including Mobile Ed: Learn to Use Biblical Greek and Hebrew with Logos 6
40% off selected works by John Walton, including the IVP Bible Background Commentary: Old Testament and two Mobile Ed courses
45% off more than 20 works by Craig Evans, including the Dictionary of New Testament Background and six Mobile Ed courses
50% off three Mobile Ed courses and three insightful books by Darrell Bock
Plus, you can get 10% off Logos 6 base packages during Logos March Madness! There are so many ways for you to save, but these deals won't last forever. Don't miss your chance to save on great commentaries, theological studies, Mobile Ed courses, and more!
Browse all N.T. Wrights deals (70% off!)
Browse all J.I. Packer deals (50% off!)