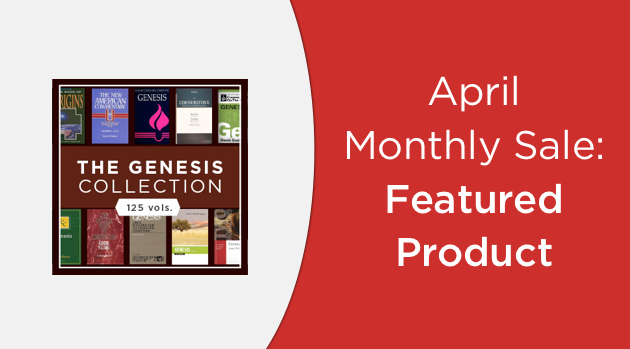 Genesis offers a wide scope of content and many interpretive issues which have led to countless viewpoints and controversies. With so much to consider, it's difficult (if not impossible) for one commentary or study to touch on all of them. So how do you do get a comprehensive look at Genesis?
The 125-volume Genesis Collection provides the exhaustive coverage you need to form a well-rounded perspective on this important biblical book. With one purchase, you can transform your study of Genesis with a library's worth of wide-ranging commentaries, theological studies, and more. Here are four ways the Genesis collection will enhance your studies:
1. You'll get diverse perspectives on key questions in Genesis, including the timeline of creation, original sin, authorship, and much more.
2. You'll be able to study every chapter and verse with volumes from leading modern commentaries, including the New American Commentary, Two Horizons, the Continental Commentaries, and the International Critical Commentary.
3. You'll discover what commentators throughout church history have said about Genesis, from Augustine and Origen to John Calvin and John Bunyan.
4. You'll put specific issues under the microscope, with focused studies on creation, the flood, Abraham, and more.
If you bought all the books in this collection individually, you'd pay thousands of dollars. But this month only, you can get the entire collection for only $599.99! And if you already own some of the books, you'll pay even less!
Don't miss this chance to instantly build your library on Genesis at an amazing discount. Get the Genesis Collection today.