Take advantage of these great back-to-school deals on commentaries, theologies, dictionaries & reference works, original languages works, and more! These deals end August 31 at 11:59 PM (PT).
Here are four recommended resources:
Lexham Discourse Hebrew and Greek Bundle (12 vols.)
The Lexham Discourse series represents the culmination of years of study on discourse features and devices. This is a first in the study of biblical texts: a complete discourse analysis of the whole Bible, constructed with visual representations for numerous communicative devices throughout the Hebrew Old Testament and the Greek New Testament. The Lexham Discourse Bible identifies these discourse markers and performs complex discourse analysis of the entire Bible quickly, easily, and accurately, making it one of the most advanced tools for studying the Hebrew or Greek text.
The Lexham Discourse Hebrew and Greek Bundle is designed for a serious scholars of original languages. Get it now for 14% off. 
Anchor Yale Bible Reference Library (33 vols.)
The Anchor Yale Bible Reference Library is designed to be a third major component of the Anchor Yale Bible group, which also includes the Anchor Yale Bible and the Anchor Yale Bible Dictionary. While the dictionary and the commentaries are structurally defined by their subject matter, the Anchor Yale Bible Reference Library serves as a supplement on the cutting edge of the most recent scholarship. Separate volumes deal with topics including: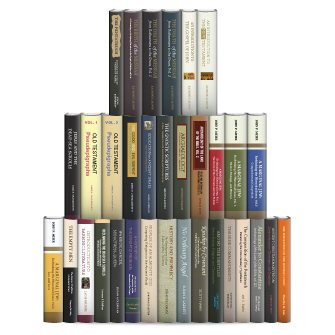 anthropology

archaeology

ecology

economy

geography

history

languages and literatures

philosophy

religion

theology
Bring the trusted works of Yale Publishing House into your study today. Get the Anchor Yale Bible Reference Library for 33% off.
Institutes of the Christian Religion (2 vols.)
John Calvin's Institutes of the Christian Religion stands among the greatest works of Christian theology and Western literature. Written as an introduction to Christian doctrine, Calvin's Institutes quickly became one of the best systematic theologies of the Reformed tradition.
Get the Institutes of the Christian Religion for 25% off. 
Hermeneia and Continental Commentaries (69 vols.)
As Walter Brueggemann notes, "Hermeneia will be the benchmark and reference point for all future work." At 49% off, that comes to approximately $10 a volume. Few sets give you better support for biblical, academic study, regardless of your specific area of focus. Now through the end of the sale, you can get Bultmann's Hermeneia volume on the Johannine Epistles, completely free when you tell a friend about the sale. Get the entire set for 49% off. 
* * *
On August 31, at 11:59PM (PT) the back-to-school sale ends and discounts on the very best academic resources will be gone! Save now before it's too late.