Today's post on Karl Barth is from Matthew Wilcoxen. Matt is a PhD student at Charles Sturt University, focusing on Barth and the concept of time. He is a graduate of Biola University and Talbot School of Theology.
The term classic is applied to a work with lasting influence—a singular exemplar of a new mode of thought, one that leads to widespread imitation and sharp critique. A classic of Christian theology must also, of course, be an attempt to say afresh the message of the Bible. As the dust settles on the life of Karl Barth, it becomes increasingly clear that his magnum opus, the Church Dogmatics, deserves a place on this top shelf of Christian intellectual history, where it sits rightfully alongside the works of Augustine, Aquinas, and Calvin.
Karl Barth the Professor
The son of a Reformed minister, Barth (1886–1968) was himself stimulated to study theology through a confirmation class he took as an adolescent. He went on to study at Bern, Berlin, Tübingen, and then Marburg, receiving a thorough initiation into the liberal Protestant theology regnant on the continent in the late nineteenth and early twentieth centuries. During WWI, Barth was busy studying the Epistle to the Romans. This would lead to multiple editions of a landmark commentary. In the words of one contemporary, the important second edition published in 1922 was a "bomb that fell on the playground of the theologians." This book was so revolutionary that it catapulted Barth to the top rungs of the German academy, landing him a professorship in Göttingen. From here he would go on to teach at Münster, Bonn, and—after being expelled from Germany by the Nazis—Basel, where he would spend the rest of his career and write the bulk of the nearly-9,000-page Church Dogmatics.
Karl Barth's Church Dogmatics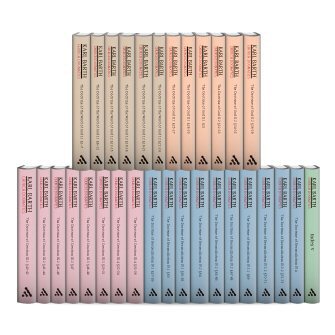 The Church Dogmatics unfolds the same insight as the commentary on Romans—that revelation, the sovereign act of God, occurs outside of and in spite of all human possibilities. Through the study of, in particular, Luther, Reformed Christology, and Anselm's Proslogion, Barth found the tools at his disposal to build a theological system on the objective reality of God in the incarnate Christ. Thus "in Christ"—applied to both God and human beings—is the method and the content of the 13 part-volumes of the Church Dogmatics. So not only due to his contemporary influence, but because Barth refuses to take as given anything other than Immanuel, "God for us," Barth's theology is continually solidifying its status as a classic.
This method of building a theological system engages Barth in lengthy scriptural exegesis, engagement with all strands of Western Christian theology, and critical interactions with modern philosophy. And since Barth sees true human existence in Jesus Christ, ethics is never treated as ancillary to theological reflection; in the Church Dogmatics, themes like prayer, sanctification, and other issues central to Christian discipleship figure quite prominently. There is something here for everyone—the student, the preacher, or even the accomplished scholar.
* * *
As part of our Back to School Sale, you can pick up a copy of Barth's classic Church Dogmatics for just $379.95 (with coupon code B2SBarth). Check out Barth and all the other amazing deals we have on sale for our Back to School Sale.