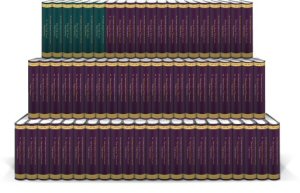 How much is a set of Spurgeon's sermons worth to you?
Before you answer that question, here are a few things to keep in mind:
Spurgeon preached at an astonishing pace—three sermons every week for several years. Before he turned 20, Spurgeon preached more than 500 sermons. When, when he moved to the Park Street Chapel, his sermons were published each week and sold more than 25,000 copies. According to Christian History, Spurgeon preached to more than 10 million people during his lifetime. He often preached to thousands of people at a time—without a microphone. By the time of his death, Spurgeon had preached over 3,500 sermons.
Spurgeon had a profound influence on an entire generation. Dwight Moody met with Spurgeon during a trip to England in 1875. During his visit, Spurgeon, Moody refined his preaching skills before returning to America to become one of the century's most famous evangelists. And Moody wasn't the only one: David Livingston (of "Doctor Livingston, I presume" fame) carried copies of Spurgeon's sermons with him on his travels. After Livingston's death, his daughter found the note "Very good. D.L." written on the front of one of Spurgeon's sermons.
Because Spurgeon preached from the entire Bible, his sermons nearly provide a comprehensive commentary on the entire Bible. That's 63 volumes, and tens of thousands of pages, straight from Spurgeon.
With the Logos edition, you could search all of Spurgeon's sermons for the text or topic you're preaching on. Scripture references would be linked to your Bible, and the entire set will integrate with the rest of your library.
So what would owning the Logos edition of Spurgeon's sermons be worth to you? Ultimately, you're the best person to judge. That's why we decided to let you help select the price.
How It Works
Simply go to the product page and select the amount you'd be willing to pay. Maybe it's a lot. Maybe it's a little. Whatever the amount—choose how much Spurgeon's sermons are worth to you. It's that simple.
I've Selected My Price. What Happens Next?
If enough people select the same price as you to cover product costs, you'll get it for your price. A higher selected price means fewer people are needed to put the project into production.
If the final price ends up being lower than what you selected, you'll get it at the lower price. But if final price is higher than what you selected, you'll miss out. The bottom line: the higher you bid, the more likely you are to get it at or below your price.
As soon as there are enough bids to cover production costs, we'll send you an email notifying you whether your bid was successful or not. If your bid was successful, then it will turn into a Pre-Pub order. We won't charge your card until the product ships, and we'll let you know a few weeks before that happens.
For now, all you need to do is tell us how much owning the Logos edition of Spurgeon's Sermons is worth to you. Head to the product page to place your bid!
Do you already own the Ages edition of The Complete Spurgeon Sermon Collection (63 vols.) that was built years ago for Libronix? If so, then you will receive this updated collection for free, and the files will automatically download when it is complete.