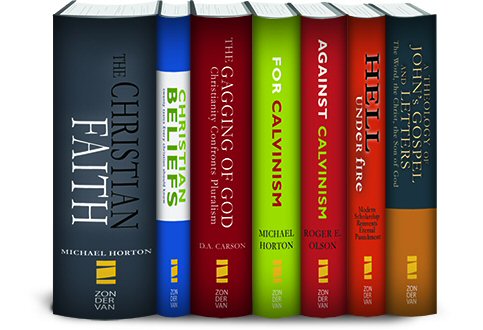 Theology is rewarding, but often intimidating. Words like hamartiology, soteriology, and ecclesiology can be formidable hurdles to someone new to theological study. If you can relate, the Zondervan Theology Collection may be right up your alley.
The seven volumes in the Zondervan Theology Collection aren't "beginner" theology; they are approachable books full of deep and practical theology for everyone. Whether you have been studying theology for years or you are just getting your feet wet, this collection will inform and inspire you.
The Christian Faith: A Systematic Theology for Pilgrims on the Way by Michael S. Horton is a shining example. This systematic theology proves that scholarly illumination doesn't have to come at the expense of accessibility. This isn't just a theological primer (the print version is over 1,000 pages); Horton unpacks all of the traditional categories of systematic theology in six parts:
Part 1: Knowing God: The Presupposition of Theology
Part 2: God Who Lives
Part 3: God Who Creates
Part 4: God Who Rescues
Part 5: God Who Reigns in Christ
Part 6: God Who Reigns in Glory
"Dr. Horton has produced a remarkable work. His approach to systematic theology is fresh and critically needed in our time. Every pilgrim will profit from this work."—R. C. Sproul, chairman and president, Ligonier Ministries
In the Zondervan Theology Collection, scholars like Andreas Kostenberger, Wayne Grudem, and D. A. Carson will walk  you through the basics of the Christian faith as well as recent hot button issues.
If you want practical content by well-known scholars, the Zondervan Theology Collection belongs in your library. Place your order today while this collection is still on Pre-Pub!