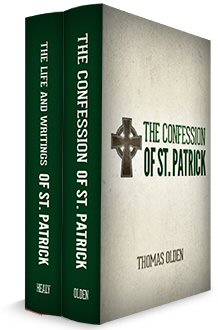 There's no better time than St. Patrick's Day to announce the two-volume St. Patrick, Apostle of Ireland collection on Community Pricing.
Kidnapped from Britain by Welsh pirates at the age of 16, Patrick spent six years in Ireland as a slave. He eventually escaped and returned home where he joined the church. After spending 12 years in a monastery, Patrick felt called back to Ireland.
As Patrick remembers it:
"I saw a man coming, as it were from Ireland. His name was Victoricus, and he carried many letters, and he gave me one of them. I read the heading: 'The Voice of the Irish.' As I began the letter, I imagined in that moment that I heard the voice of those very people who were near the wood of Foclut, which is beside the western sea—and they cried out, as with one voice: 'We appeal to you, holy servant boy, to come and walk among us.' "
Almost immediately after becoming a bishop, Patrick sailed back to Ireland. He  successfully won converts among the Gaelic Irish, even converting members of royal families. He established schools, set up churches, and developed clergy from among the natives who helped him to win even more converts.
For more than 600 years, missionaries from Ireland carried the gospel all around Europe, setting up missions in Scotland, Britain, Germany, Switzerland, and beyond. Throughout some of Europe's darkest years, Patrick's legacy shone bright.
Soon you'll be able to add St. Patrick's autobiography and writings to your Logos library. And with Community Pricing, you decide how much you want to pay. Place your bid on the St. Patrick, Apostle of Ireland (2 vols.) today!