The Weekly Roundup is a regular feature alerting you to significant things happening at Logos this week. Take a few moments to check out these newsworthy items for the week of February 4, 2012.
Time Is Running Out!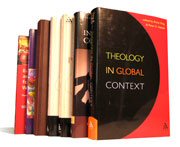 The Global Christianity Collection ships February 6, 2012, but there are still a couple days left to add this incredible collection to your library at this fantastic Pre-Pub price.
Head over and check out the 6-volume Global Christianity Collection now.
Interesting Discussions
New Pre-Pubs
Last Chance Pre-Pubs
These are Pre-Pubs shipping next week. Don't miss your last chance to pick these up at their amazing Pre-Pub prices!
The latest collections from Community Pricing:
Don't miss out on these collections nearing the 100% mark!
Logos is hiring! Here are just a few of the newest postings on our Careers page:
Marketing Department
Graphic Design and Video
Sales
Software Development
Publications
Ministry Development
Customer Service
Finance
Was there anything else from Logos you found interesting this week? Leave us a comment and let us know!