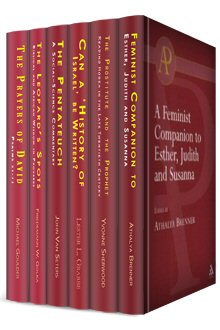 The six-volume Studies in Old Testament Themes is over 1,500 pages of scholarship and studies that discusses a variety of Old Testament topics. And now, you can grab it for the Pre-Pub price of just $89.99—that's over 75% off the retail price! All six volumes are valuable for learning more about the Old Testament, but here's a closer look at just two of the titles included in Studies in Old Testament Themes:
In Can a 'History of Israel' be Written? author Lester L. Grabbe takes a look at the long-debated issue of using the Hebrew Bible as a historical source of information to compile a history of Israel. The contents of Can a 'History of Israel' by Written? include the papers used to start dialogue addressing this problem at the European Seminar on Methodology in Israel's History.
Feminist Companion to Esther, Judith and Susanna, edited by Athalya Brenner, contains research and writings that look at these stories from a woman's perspective. The majority of this book focuses on Esther, but also looks at the lives of Judith and Susanna.
Other titles included in this collection are The Prayers of David: Psalms 51-72 by Michael Goulder, The Leopard's Spots: Biblical and African Wisdom in Proverbs by Friedemann W. Golka, The Pentateuch: A Social-Science Commentary by John Van Seters, and The Prostitute and the Prophet: Reading Hosea in the Late Twentieth Century by Yvonne Sherwood.
Be sure to get Studies in Old Testament Themes (6 vols.) for the Pre-Pub price of just $89.99 before it ships!