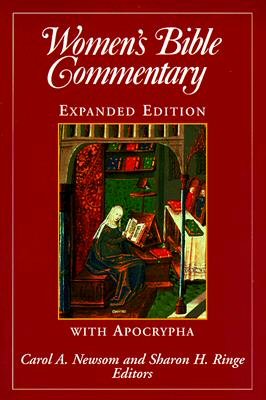 Do you ever wonder what it was like for women in Bible times? What did the writings of Moses, David, and Paul mean for women of God? The Women's Bible Commentary provides a female perspective on the Bible's characters, contexts, and principles, which makes it perfect for answering these questions.
Over 40 woman scholars have contributed to the 500-page Women's Bible Commentary, including editors Carol Newsom and Sharon Ringe and authors Katharine Doob Sakenfeld, Gail R. O'Day, Jouette M. Bassler, and many more. What sets this commentary apart from others is that the authors also address specific issues that are particularly significant to women, such as marriage and family. You'll also find insights on Bible characters, symbols, life situations, and more.
And this expanded edition is full of extra features! There are 14 chapters on the Apocrypha and two chapters on the life of women during Old and New Testament times. By looking at the women's lives, opportunities, and hardships, you'll gain new perspective on applying the Scripture today.
Women's Bible Commentary has received a lot of praise through the years. Here's what others are saying about Women's Bible Commentary:
"A remarkable volume that is fresh, provocative, and faithful. It is as faithful as Jacob is faithful in wrestling with the angel. Sometimes you can only know the truth by fighting back."
—Susan Brooks Thistlethwaite, Professor of Theology, Chicago Theological Seminary
"This welcome and daring book has much to teach us that we cannot safely ignore. . . . A landmark in interpretation."
—Walter Brueggemann, Emeritus Professor of Old Testament, Columbia Theological Seminary
"With the Women's Bible Commentary, careful and critical feminist biblical interpretation is made accessible for preaching, study groups, and seminary courses."
—Letty M. Russell (1929–2007), Professor of Theology, The Divinity School, Yale University
Check out Women's Bible Commentary while it's on Pre-Pub for just $24.95—that's almost 40% off of the retail price!