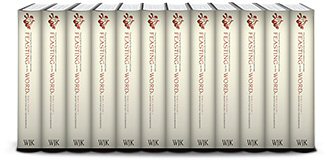 Struggling to come up with a new sermon topic each week? In Feasting on the Word, you will find an elegant alternative to fretting over which passage to preach on any given Sunday.
This is an incredibly accessible resource for the preacher.  The 12 volumes in this series include passages for three years' worth of Sundays, as arranged in the Revised Common Lectionary. The church has fine-tuned this lectionary over time and it provides a holistic approach to the entire canon of Scripture.
Stay on track with a calendar of weeks that includes special sections for Lent and Advent.
Each week features a reading from the Old Testament, a Psalm, an excerpt from an epistle, and a passage from one of the four Gospels.
One Passage, Four Guides
For each passage, Feasting on the Word features essays and commentaries from four different perspectives:
The theological
The pastoral
The exegetical
The homiletical
This format supplies the teacher with a wealth of possibilities in his approach to each of the four Scripture passages included for each week.
Get it Now!
For a limited time, Feasting on the Word is available on Pre-Pub for $189.95—50% off the retail price. Pick up your lectionary commentary series today!