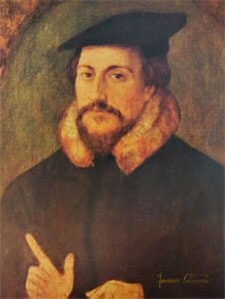 1. Calvin suffered.
He was in constant pain: "headaches, insomnia, shortness of breath (probably due to advanced tuberculosis), coughing fits, hemorrhages, fevers, colitis, kidney stones, hemorrhoids," according to Alexandre Ganoczy, and "bleeding from the stomach, fever, muscle cramps, nephritis, and gout" to name just a few. Calvin was more than a preacher and theologian—he was a pastor, too. He knew what it meant to suffer, and his writings bear this out.
2. John Calvin and Ignatius of Loyola were classmates at the University of Paris.
Why is this interesting? Because Ignatius of Loyola founded the Society of Jesus—more commonly known as the Jesuits. The Jesuits were the driving force behind the Roman Catholic Counter-Reformation. It's not much of an exaggeration to say that, as the Reformation unfolded, no group opposed Calvin and his successors more than the Jesuits.
3. Calvin had a religious conversion.
Everyone knows the story of Luther's conversion—his near-death experience and his commitment to a life of study. But did you know Calvin had a conversion experience, too? Calvin famously wrote in the preface to his commentary on Psalms:
"God by a sudden conversion subdued and brought my mind to teachable frame, which was more hardened in such matters than might have been expected from one at my early period of life. Having thus received some taste and knowledge of true godliness, I was immediately inflamed with so intense a desire to make progress therein, that although I did not altogether leave off other studies, yet I pursued them with less ardor."
4. Calvin was deeply influenced by Augustine.
Some have claimed that Augustine was the first Calvinist! B. B. Warfield wrote:
"The system of doctrine taught by Calvin is just the Augustinianism common to the whole body of the Reformers—for the Reformation was, as from the spiritual point of view a great revival of religion, so from the theological point of view a great revival of Augustinianism."
Spurgeon wrote:
"Perhaps Calvin himself derived it [Calvinism] mainly from the writings of Augustine."
Calvin himself wrote:
"Augustine is so wholly with me, that if I wished to write a confession of my faith, I could do so with all fullness and satisfaction to myself out of his writings."
The data are pretty interesting, too. In the 1536 edition of the Institutes of the Christian Religion, Calvin quotes Augustine 24 times. By the 1559 edition, he quotes Augustine 400 times. Here's just a snapshot:
68 citations about the sacraments
54 citations about the church
34 citations about God's will
34 citations about sin
28 citations about grace
17 citations about predestination
5. Nobody knows where Calvin is buried.
Calvin wanted no veneration after he died. He didn't want pilgrims to travel to Geneva to find his grave. In fact, even today it's difficult to find many monuments to his life at all. James Rigney has written that "unlike other reformers. . . Calvin is represented in Geneva only by traces and shadows and by the diffused voice of his writings." Hugh Y. Reyburn wrote in 1914 that "The spot where he was laid is now uncertain. . . . But he needs no stone. His indestructible memorial is his works."
Calvin's most important work is the Institutes of the Christian Religion. This book has enjoyed a prominent place on the reading lists of theological students and scholars around the world, and has left its mark in the fields of theology, philosophy, social thought, and legal theory. It has been republished and translated nearly 100 times in dozens of languages.
The most authoritative English edition is the translation by Ford Lewis Battles of the 1559 Latin edition, which is newly available for pre-order. If you're a scholar of the Reformation, you already know this edition is a must-have. And if you're new to Calvin but not sure where to begin, you couldn't do much better than the Battles translation of Calvin's Institutes. But the price is only available for a limited time, so pre-order it now!
***
Get the Faithlife Study Bible—for free!
More insights like this are waiting for you in the Faithlife Study Bible—the world's largest study Bible. And it's totally free—get it now!