The Weekly Roundup is a regular feature alerting you to significant things happening at Logos this week. Take a few moments to check out these newsworthy items for the week of November 5, 2011.
Key Item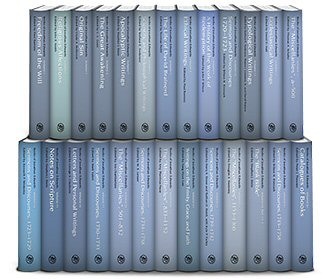 The 26-volume Works of Jonathan Edwards is currently under development, but you can still pick it up at the Pre-Pub price!
This collection contains 16,000 pages of the most comprehensive and accurate archive of Edwards' treatises, sermons, letters, and musings ever assembled. The Works of Jonathan Edwards allows you to leverage the incredible content of America's theologian for your personal Bible study.
This Yale edition is the standard set of Edwards' Works for serious study, and is unprecedented in sheer volume and value.
Don't wait until the price goes up on this once-in-a-lifetime collection. Pick it up on Pre-Pub today!
Interesting Discussions
Products
New Pre-Pubs
Last Chance Pre-Pubs
These are Pre-Pubs shipping next week. Don't miss your last chance to pick these up at their amazing Pre-Pub prices!
New to Community Pricing
Also be sure to place your bids in on these great Community Pricing offerings before they disappear:
Logos is hiring! Here are just a few of the newer postings on our Careers page:
Design & Editorial
Marketing Department
Sales
Publications
Software Development
Was there anything else from Logos you found interesting this week? Leave us a comment and let us know!