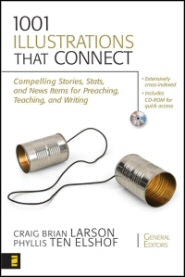 This Daily Deal Has
Expired

! Keep Following Us on Twitter for More Daily Deals!

Those of you that follow us on Twitter know that our #DailyDeal program features a special 50% off deal every day of the week.

Today we are partnering with Zondervan to feature 1001 Illustrations that Connect, a powerful resource for preachers, teachers, and writers. Now you can add this collection of powerful illustrations—culled from Christianity Today's popular website Preaching Today.com—to your Logos 4 resources for 50% off using the coupon code DD5423 !
Make Sure You Don't Miss Out on Future #DailyDeals!
After you pick up 1001 Illustrations that Connect,  make sure you get all of the great deals we have coming your way!
Here's how:
You'll want to follow us on Twitter. You'll need a Twitter account, or you can import our Twitter feed into a reader via RSS.
Watch our Twitter feed each weekday, and keep an eye out for the "#DailyDeals" hashtag. This marks a 50% off, one-day-only sale!
In order to take advantage of the #DailyDeal, you'll need to click on the link to the order screen.
Once you've clicked on the link, enter the coupon code. In this case, the code is "DD5423", as show below.
Proceed through the purchase.  Now you're on your way to enjoying great reading and studying material!
Share #DailyDeals with Your Friends!
Sharing these great deals with your friends and followers is really easy! Simply click 'retweet' so all of your friends on Twitter can get in on the deal, too!
So pick up your copy of 1001 Illustrations that Connect  at 50% off, and  make sure you check out tomorrow's #DailyDeal!