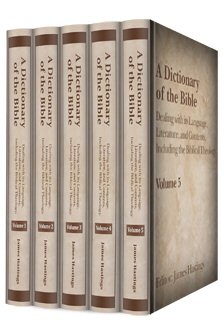 The time to save on the Dictionary of the Bible (5 vols.), is growing short. There's only a short amount of time left before it leaves Community Pricing, so place your bid today to get in on this limited-time low price!
Editor and biblical scholar James Hastings, who also edited the Encyclopedia of Religion and Ethics, A Dictionary of Christ and the Gospels, and the one-volume Dictionary of the Bible, put together this 4,500 page reference work. Hastings Dictionary of the Bible has writings and analyses from over 150 scholars and discusses more than 1,500 terms, making this a valuable resource to any Bible student.
The first four volumes each contain 900 pages of definitions of people, places, terms, and ideas like Abraham, education, jealousy, Kingdom of God, Palestine, plagues, the Sadducees, and hundreds more. The fifth volume includes helpful maps, articles, and indexes to support the other volumes in this collection.
The Dictionary of the Bible is searchable by subject, and with over 1,500 terms to research, it's sure to enrich your Logos library tremendously.
Be sure to place your bid today and get this great deal!