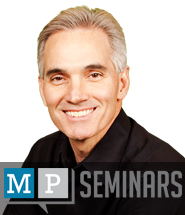 Today's post is from Morris Proctor, certified and authorized trainer for Logos Bible Software. Morris has trained thousands of Logos users at his two-day Camp Logos training seminars.
One of the most significant resources Logos has ever produced is the reverse interlinear which takes English students back to original Hebrew and Greek words without the aid of Strong's numbers. You may not know, though, you can easily configure the Bible's interlinear pane for your specific needs:
Open an English Bible with the reverse interlinear option (ESV, NRSV, KJV, NKJV, NASB, or for NT only NLT, NIV, LEB)
Click the reverse interlinear icon on the Bible's toolbar which places the reverse interlinear pane at the bottom of the panel
Right click on the word surface in the pane
Check/Uncheck the lines of information you wish to show/hide
This configuration remains even after closing and reopening the Bible!