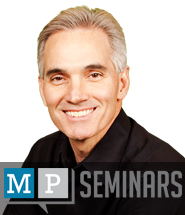 Today's post is from Morris Proctor, certified and authorized trainer for Logos Bible Software. Morris has trained thousands of Logos users at his two-day Camp Logos
training seminars.
One of the downsides to reading traditional print books is that the lines of text are usually very long. Our eyes are constantly moving from left to right and back  left again which slows us down. Newspaper articles, however, appear in columns with shorter lines of text. We read those articles up and down which increases our reading speed. We can now read our Logos books the same way with newspaper columns.
Here's how:
Open a Logos resource such as a Bible or dictionary
Click the resource's panel menu
Locate on the menu the option called Columns
Select the number of columns (1-5) you want to appear in the panel (Auto allows Logos to adjust the columns based on the width of the panel)
You can now read that resource just like a newspaper! To turn the pages, click the arrows in the lower right corner (lower left corner for right to left resources) of the panel.